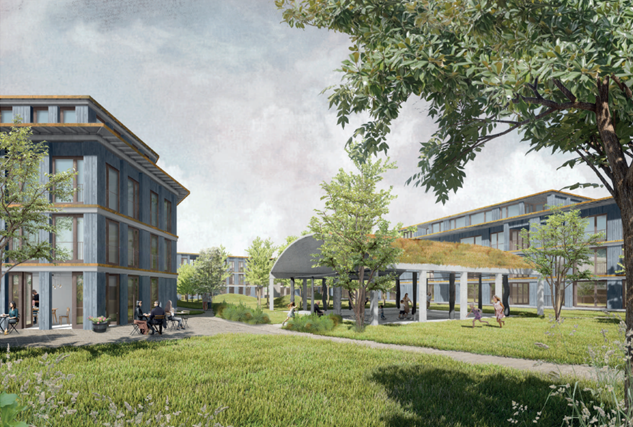 Competition win for the new Park St. Benedictus in Mortsel (BE)
Together with Ciril (project developer), Bovenbouw Architecture and Bart Dehaene Architects, we won a competition for a new public park in the city of Mortsel (Antwerpen).
Between a new development of apartments and single family houses at the edge of the plot, a continuous park with infrastructure for bicycles and pedestrians will create a green oasis for the people of Mortsel. The park is situated between a residential area and the large green corridors in Mortsel. The site was formerly used by the city of Mortsel mainly as a storage and parking space and is nearly entirely paved. An existing concrete arched shed is transformed into a central covered area where people can meet or where activities can take place, such as concerts, markets etc. A grass "shell" oriented towards the shed creates a relaxing seated area on a gentle slope, a green "theatre". Big gestures of gentle grading work creates interesting perspectives throughout the park. A landscaped park with gentle curvy paths, playground for children, a cluster of interesting trees flowering in different seasons shows the general character of the park.